B series CV type [Pneumatic Driven]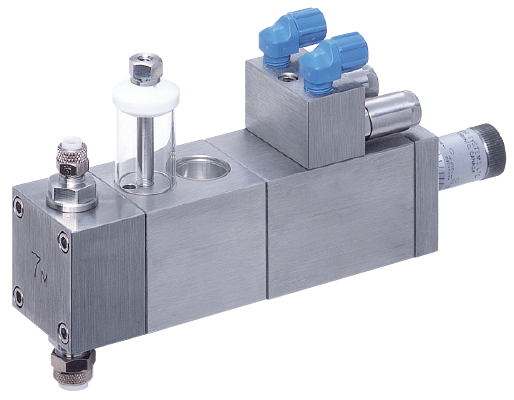 ---
Material of wetted parts
| | |
| --- | --- |
| A. Pump head | SUS316, PVC |
| B. Poppet | PTFE, PVC, POM |
| C. Spacer | PTFE, PVC, POM |
| D. O-ring | EPDM, FKM, silicone, CR, FFKM, Kalrez®, BUNA |
| E. Plunger | Low expansion borosilicate tempered glass, SUS316, zirconia ceramic |
| F. Tube | Polyethylene, PFA |
| G. Nozzle | SUS316, POM, PVC, PTFE |
| H. Plunger Seal | Outside: PTFE, UHMW-PE   Inside: EPDM, FKM, Silicone, CR, FFKM, Kalrez®, BUNA, SUS |
*Kalrez® is a trademark or registered of E.I.Du Pont and affiliated companies.
---
Suitable for dispensing small amounts of low-viscosity materials in the range of 0.02 to 20 cc and 1 to 5,000 cps.

<Features>
The pump size can be easily changed by simply replacing the pump head and plunger.
The discharge volume can be easily changed with a high precision micrometer.
The suitable dispensing condition can be obtained since suction / dispense speed can be adjusted independently.
A wide variety of wetted part materials are available to meet the needs of all kinds of liquid dispensing.
---
Electrolyte injection for various types of batteries
Electrolyte injection for electrolytic capacitors
Constant volume dispensing of chemicals and reagents
Discharge of food materials such as cooking oil and soup
Constant volume dispensing of cosmetics and toiletries such as lotion, shampoo, and conditioner
Constant volume dispensing of ink/paint
Liquid filling in aerosol can
Integrated in food/cosmetic machinery
List of Models
Slide sideways to see
MODEL (Model)
Dimensions(mm)
Weight(kg)
Maximum dispense volume (cc)
Overall length
Overall width
Overall height
1BC1S
197
43
88
2.3
~0.02
1BC2S
~0.05
1BC3S
~0.11
1BC3M
203
~0.23
1BC4M
~0.40
1BC5M
~0.63
1BC7M
~1.23
1BC10M
~2.51
2BC8R
267
50
94
3.6
~3.22
2BC10R
~5.03
2BC12
~7.24
2BC14
~9.85
2BC17
~14.52
2BC20
~20.11
---
*These precision metering pump products are built under the technology license from HIBAR.