H series RV type [Pneumatic Driven]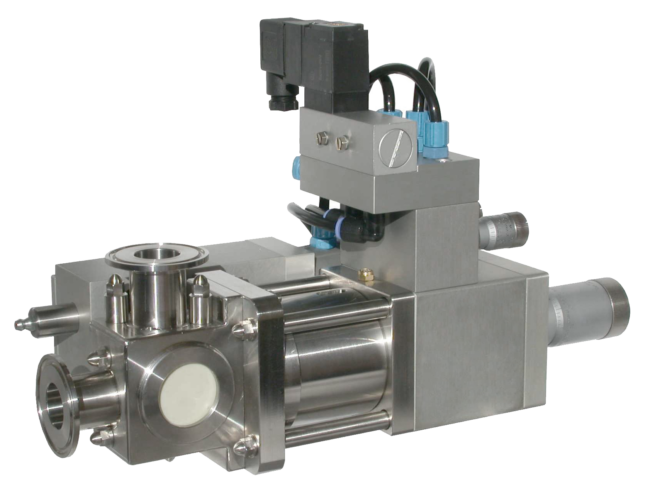 ---
Material of wetted parts
| | |
| --- | --- |
| A. Pump head | SUS316 |
| B. Rotary valve | Zirconia ceramic |
| C. O-ring | EPDM, FKM, silicone, CR, FFKM, Kalrez® |
| D. Plunger | SUS316 |
| E. Tube | Polyethylene, PFA |
| F. Plunger Sleeve | SUS316, Zirconia Ceramic |
*Kalrez® is a trademark or registered of E.I.Du Pont and affiliated companies.
---
Suitable for fixed volume dispensing of 5,000 to 50,000 cps at approximately 3 to 2,000 cc. The ceramic rotary valve design provides excellent durability.
It is designed to shorten the disassembly and cleaning process, and is widely used in production lines in the food and cosmetic industries.

<Features>
Discharge volume can be easily changed by high precision micrometer.
The suitable dispensing condition can be obtained since suction / dispense speed can be adjusted independently.
A wide variety of liquid contact part materials are available to meet the needs of dispensing all kinds of liquids.
---
Fixed volume dispensing of high viscosity materials such as grease and adhesives
Precise fixed volume filling of high-viscosity materials such as ketchup and jam
High viscosity chemicals such as creams and ointments, and cosmetic materials
Precise fixed volume filling of food containing ingredients, cosmetics containing solids, and similar products
Integrated in food and cosmetic machinery, for example
List of Models
Slide sideways to see
MODEL (Model)
Dimensions(mm)
Weight(kg)
Maximum dispense volume (cc)
4H1-R*-10
383
7.9
~9.85
4H1-R*-33
358
~33.97
4H1-R*-58
~58.12
4H2-R*-19
509
8.6
~19.71
4H2-R*-67
459
~67.98
4H2-R*-116
~116.24
4H3-R*-29
637
9.3
~29.56
4H3-R*-101
560
~101.91
4H3-R*-174
~174.35
4H4.5-R*-260
657
10.3
~261.5
5H3-R2-290
682
31.7
291.8
5H3-R2-500
542.6
5H3-R2-1000
1013.6
5H6-R2-2000
759
33.1
2027.2
R*:(R1) In-line type rotary valve/ (R2) 90° rotary valve(standard)
※Overall length dimensions are those of R2: 90°ROTARY VALVE.
---
*These precision metering pump products are built under the technology license from HIBAR.