Seal-less type[Pneumatic Driven]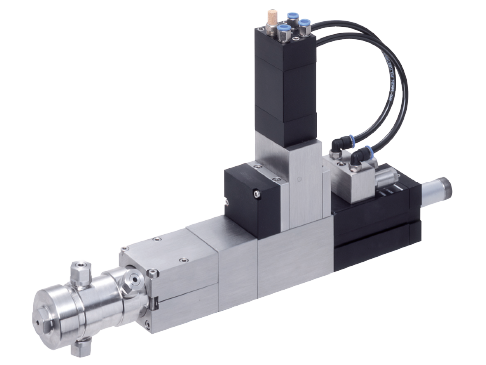 ---
The Pharma Pump for chemical filling has COP (Cleaning Out Place) capability for disassembly and cleaning, and is suitable for periodic disassembly and cleaning of autoclaves, etc.
---
The seal-less design allows it to be used with any material
Seal-less structure with no check valve, plunger seal, etc.
The plunger rotates in sync with the forward and backward movement of it, switching between suction and discharge
High precision (±1% or less) dispensing accuracy
With high-precision machining, the clearance between plunger and sleeve is in microns
The pump head can be easily removed, disassembled, and reassembled
Liquid contact materials suitable for chemical filling: SUS316L, zirconia ceramic, silicon rubber (FDA approved type), in/out piping (PFA, etc.)
List of Models
Slide sideways to see
Model
Plunger Diameter
Stroke
Maximum dispense volume
External Diameter(mm)
Weight
inch
mm
inch
mm
cc
Width
Length
Height
kg
2BRP-3
3/16
4.8
3/4
19.05
0.34
49.3
435.9
199.6
5.6〜6.5
2BRP-7
7/16
11.1
1.85
2BRP-10
5/8
15.9
3.77
2BRP-12
3/4
19.1
1
25.4
7.24
2BRP-20
1-1/4
31.8
20.11
---
*These precision metering pump products are built under the technology license from HIBAR.