B series CV type [Stepper Motor Driven]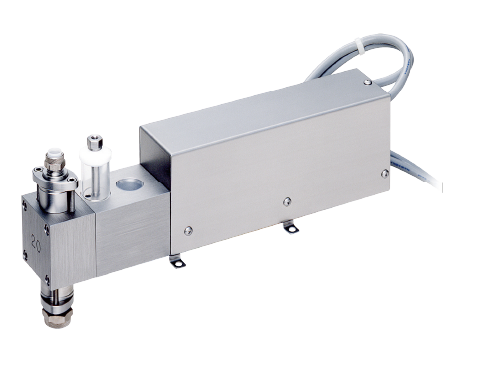 ---
Material of wetted parts
| | |
| --- | --- |
| A. Pump head | SUS316, PVC |
| B. Poppet | PTFE, PVC, POM |
| C. Spacer | PTFE, PVC, POM |
| D. O-ring | EPDM, FKM, silicone, CR, FFKM, Kalrez®, BUNA |
| E. Plunger | Low expansion borosilicate tempered glass, SUS316, zirconia ceramic |
| F. Tube | Polyethylene, PFA |
| G. Nozzle | SUS316, POM, PVC, PTFE |
| H. Plunger Seal | Outside: PTFE, UHMW-PE      Inside: EPDM, FKM, Silicone, CR, FFKM, Kalrez® |
| I. Filter Adaptor | POM,PTFE |
*Kalrez® is a trademark or registered of E.I.Du Pont and affiliated companies.
---
Suitable for dispensing small volume of low-viscosity materials in the range of 0.02 to 20 cc and 1 to 5,000 cps.

<Features>
Using a pulse motor for the HIBAR pump, the unit can be operated at a stable speed from low speed and resetting can be easily performed by quantifying each setting.
The drive unit and controller are separated, so it can be controlled away from the work environment and maintenance is also easily done.
---
Electrolyte filling for various types of batteries
Electrolyte filling for electrolytic capacitors
Constant volume dispensing of chemicals and reagents
Constant volume application of UV resin to circuit boards and other resins
Constant volume dispensing of ink/paint
Fill aerosol can with material
Addition of chemicals and catalysts at a constant flow rate
List of Models
Slide sideways to see
MODEL (Model)
Dimensions(mm)
Weight(kg)
Maximum dispense volume (cc)
Overall length
Overall width
Overall height
1BC1SDD
280
60
88
4.0
~0.02
1BC2SDD
~0.05
1BC3SDD
~0.11
1BC3MDD
~0.23
1BC4MDD
~0.40
1BC5MDD
~0.63
1BC7MDD
~1.23
1BC10MDD
~2.51
2BC8RDD
300
60
94
4.2
~3.22
2BC10RDD
~5.03
2BC12DD
~7.24
2BC14DD
~9.85
2BC17DD
~14.52
2BC20DD
~20.11
---
*These precision metering pump products are built under the technology license from HIBAR.