H series RV type [ROBO Cylinder Motor Driven]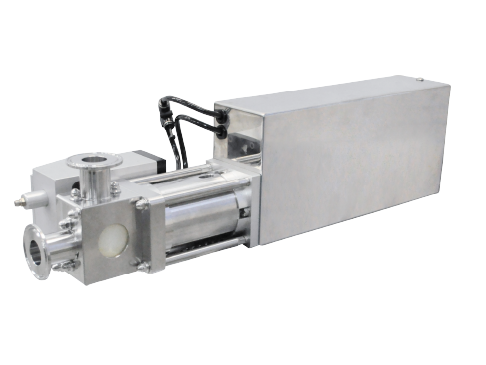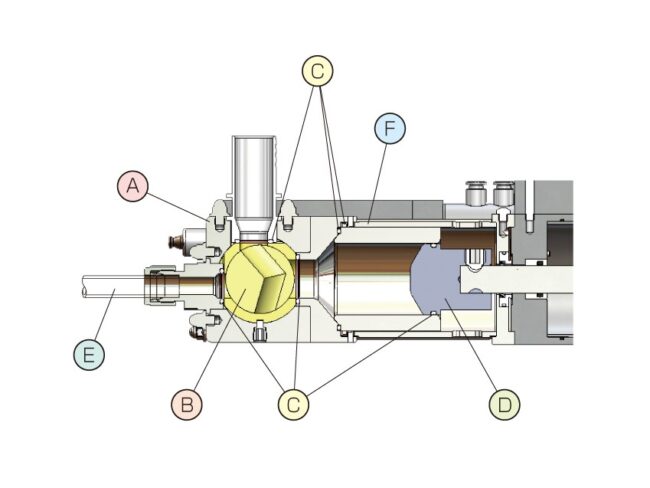 ---
Material of wetted parts
| | |
| --- | --- |
| A. Pump head | SUS316 |
| B. Rotary valve | Zirconia Ceramic |
| C. O-ring | EPDM, FKM, silicone, CR, FFKM, Kalrez® |
| D. Plunger | SUS316 |
| E. Tube | Polyethylene, PFA |
| F. Plunger Sleeve | SUS316, Zirconia Ceramic |
*Kalrez® is a trademark or registered of E.I.Du Pont and affiliated companies.
---
Suitable for fixed volume dispensing of 5,000 to 50,000 cps at approximately 3 to 2,000 cc. The ceramic rotary valve design provides excellent durability. Pulse motor drive with servo control is adopted.

<Features>
Using a pulse motor the drive unit, it can be operated at a stable speed from low speed, and resetting can be easily performed by quantifying each setting.
Data input and management can be easily performed on a general-purpose PC.
Settings and operation check of each pump can be performed from a PC. By connecting to a teaching box (accessory), data changes and operation checks can be easily performed on site.
The drive unit and controller are separated, so it can be controlled away from the work environment and maintenance is also easily performed.
The stroke and speed can be set by a PC or external control device.
---
Precise fixed volume dispensing of high-viscosity materials such as grease and adhesives
Precise fixed-volume filling of high-viscosity materials such as ketchup and jam
Precise fixed volume filling of high-viscosity chemicals such as creams and ointments and cosmetic materials
Low-speed and variable-speed dispensing of various fluids
List of Models
Slide sideways to see
MODEL (Model)
Dimensions(mm)
Weight(kg)
Maximum dispense volume (cc)
4H1-R∗-10DD
518
11.0
~9.7
4H1-R∗-33DD
493
~33.4
4H1-R∗-58DD
~57.0
4H2-R∗-19DD
569
10.5
~19.4
4H2-R∗-67DD
518
~66.9
4H2-R∗-116DD
~114.4
4H3-R∗-29DD
670
12.0
~29.0
4H3-R∗-101DD
594
~100.0
4H3-R∗-174DD
~171.6
4H4.5-R∗260DD
682
13.0
~261.5
5H3-R∗-290HD
864
35.0
291.8
5H3-R∗-500HD
542.6
5H3-R2-1000HD
1013.6
5H6-R2-2000HD
914
37.5
2027.0
R*:(R1) In-line type rotary valve/ (R2) 90° rotary valve(standard)
※Overall length dimensions are those of R2: 90°ROTARY VALVE.
---
*These precision metering pump products are built under the technology license from HIBAR.